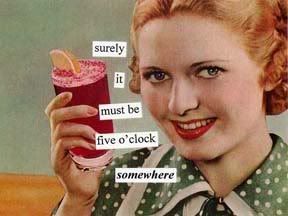 Some days just require a drink to unwind from all the craziness. Betty Ford, here I come! Some days even Calgone can't take a girl away.
Some funky stomach virus has made its way into our house again. Three out of the 5 of us got it. I am still on the healthy team. Babydiva on the other hand is puking Linda Blair style. My parents were staying with us prior to them leaving on their vacation. I pray to all things holy that they remain healthy on their trip or I will never hear the end of it.
Expensive items in my house have decided it was their time to go to electronic heaven. My desktop completely crashed. It is gone.Dead. I of course did not back up all my photos and other files I needed. Thankfully most of them were on an external drive, but I did lose a bunch of stuff. I must remember to back them up every single time! My washing machine also decided to crap out mid-cycle. I am pretty sure it can be fixed, however I have to wait several days before the repair person can come. Not an ideal time to be without a washer....see the paragraph above.

The dog is still with us, but she had another episode. She could not stand or walk again. Today, she seems fine. I caught her on the couch, she had to jump up there somehow. Her legs are back to normal today. As I mentioned in a previous post, just when we think she is a goner, she bounces back. That is my "million dollar baby".

I know my post has a Debbie Downer tone to it, but really I think it is funny. When it rains it pours. All is not lost, I did have a great 2.25 mile run this evening. It was almost 50 degrees here and I do believe Spring is starting to come around. I have my cocktail in hand and I am kicking ass in Wii bowling. Life is good...even when it is crazy.